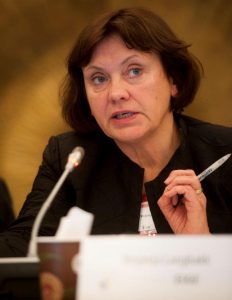 The gendered approach to budgeting
Europe is still dealing with the aftermath of the financial crisis that continues to affect the lives of both women and men, young and old. Many people are struggling, with 1 in 4 at risk of poverty or social exclusion. The most vulnerable are women, in particular lone parents. Now is the time for Europe to put on its gender glasses and take a closer look at how decisions about public spending are made and by whom.
EIGE's study on gender equality in power and decision-making (2015), clearly shows that it is men who are making most of the decisions about how the money is spent in Europe. Yet how can these decisions adequately reflect the concerns of both women and men, when women are excluded from the decision-making processes?
Gender budgeting introduces a different approach, and that is what we require for change. It is a tool that can help plan and implement budgets that take into account the different needs of women and men. It plans measures and resources to meet these needs and contributes to more gender equality in decision-making around budgeting.
Gender budgeting has the potential to bring the European Union a step closer towards its long term goal of achieving gender equality. Of course, it requires political will and strong commitment from all Member States, but given the benefits for society at large I certainly believe it is worth the effort.
As the Director of the European Institute for Gender Equality (EIGE), I am pleased to announce that EIGE plans to expand its work in the area of gender budgeting. We will map gender budgeting initiatives in the EU Member States and will develop a gender budgeting online tool in 2017-2018.
The tool will be available on EIGE's Gender Mainstreaming Platform, which is an online collection of knowledge and resources that support and foster regular dialogue among the Member States, policy actors and practitioners. The platform also offers practical methods to carry out gender mainstreaming, one of which is gender budgeting.
We also present real examples of gender budgeting from the Member States in each of the different policy areas. They include among others, sport, energy, health and research. Whichever the area, gender budgeting should not be overlooked. It has the potential to make a real difference in creating a more gender equal Europe for all.
Virginija Langbakk heads the European Institute for Gender Equality (EIGE).