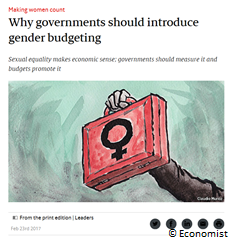 An article entitled Making women count – Why governments should introduce gender budgeting, which was published by the Economist on 23 February 2017, states numerous reasons why governments should introduce gender budgeting in their countries. Not only does gender equality "make sense", but also governments should start to measure it and promote it via gender budgeting, for "the way to a government's heart is through its pocket".
Initiatives, ministries and divisions for women's affairs: They are all very important according to the article, yet, they might not be enough when it comes to achieving effective equality between women and men. Eventually, "what counts is what's counted": Only quantification and calculation will translate our efforts into numbers. Half of the job of creating a society in which women and men are truly equal is done by investing into things that make sense for both, women and men.

Citing the article "You don't have to be a feminist to recognise, as Austria did, that the numbers show how lowering income tax on second earners will encourage women to join the labour force, boosting growth and tax revenues. Or that cuts to programmes designed to reduce domestic violence would be a false economy, because they would cost so much in medical treatment and lost workdays."
Experiences that date as far back as to the 1980s show that gender budgeting can bring about change. Yet, it is not as easy as it might seem. Certainly, it is a challenge to quantify policies and their impacts and compare them to the impact of any alternative solutions. But: The path towards gender equality has always been a challenge. So why stop here and not embrace this challenge?!
Leave a reply by using the form below. If you cannot access the comment section, please send us your statement by mail to: imag-gmb@bka.gv.at!