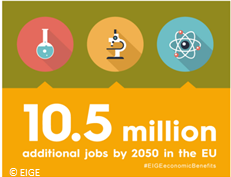 There are overwhelming differences between women and men in the EU …
Women are under-represented in STEM-disciplines. 75% of students are male.
The average gender gap is 11.6% in terms of employment; it gets higher with every child that needs to be cared for. Childcare duties have been deemed to be the major reason for part-time work for women in 2015 (39% of women would opt for part-time work due to children while only 4% of men would do so for the same reason).
Mostly, it is women who are employed in part-time work (2015: 32.1%, men: 8.9%) which entails higher risks of poverty for them.
Gender Pay Gap: On average, women earn 16.1% less than men.
Gender-segregated education and training, low employment intensity, lower wages, precarious employment models and unequal distribution of unpaid work are at the heart of these discrepancies.
The European Institute for Gender Equality (EIGE) commissioned a study on economic benefits of gender equality in the EU, which aims at measuring socio-economic effects of gender equality measures. The study underlines that fostering gender equality would lead to
More jobs: An additional 6.3 and 10.5 million jobs can be created until 2050.
An increase in GDP: GDP per capita might increase by 10% until 2050
Read a full summary here.
Leave a reply by using the form below. If you cannot access the comment section, please send us your statement by mail to: imag-gmb@bka.gv.at!