Angela O'Hagan, Elisabeth Klatzer (Eds.)
"Gender Budgeting in Europe – Developments and Challenges"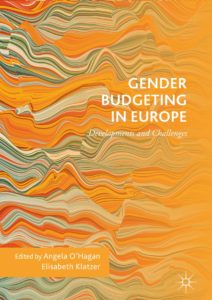 provides a critical exploration of the historical and conceptual background to gender budgeting.
offers investigation of approaches to adoption and implementation from diverse parts of Europe over almost 20 years.
critically reflects on gender budgeting activity at different levels of government across a range of countries.
reaffirms feminist engagement in gender analysis of budget processes and economic policy.
This book takes a broad look at conceptual and practical applications of gender budgeting in Europe. It comprises three linked sections that work through conceptual definitions of gender budget analysis. These sections explore how it can be framed and constructed as a gender equality policy; investigate case studies across Europe; and examine challenges for implementation. Being the first book of its kind, "Gender Budgeting in Europe" explores conceptual and methodological variations evidence in practice in Europe and the challenges of adoption and implementation in different political and institutional contexts. It brings together historical and current conceptual developments and tensions; approaches, methodologies, and tools in practice across Europe; activism, actors and agency and the engagement of formal institutions at all levels of government with feminist policy changes and feminist analysis and activists.
Leave a reply by using the form below. If you cannot access the comment section, please send us your statement by mail to: imag-gmb@bka.gv.at!